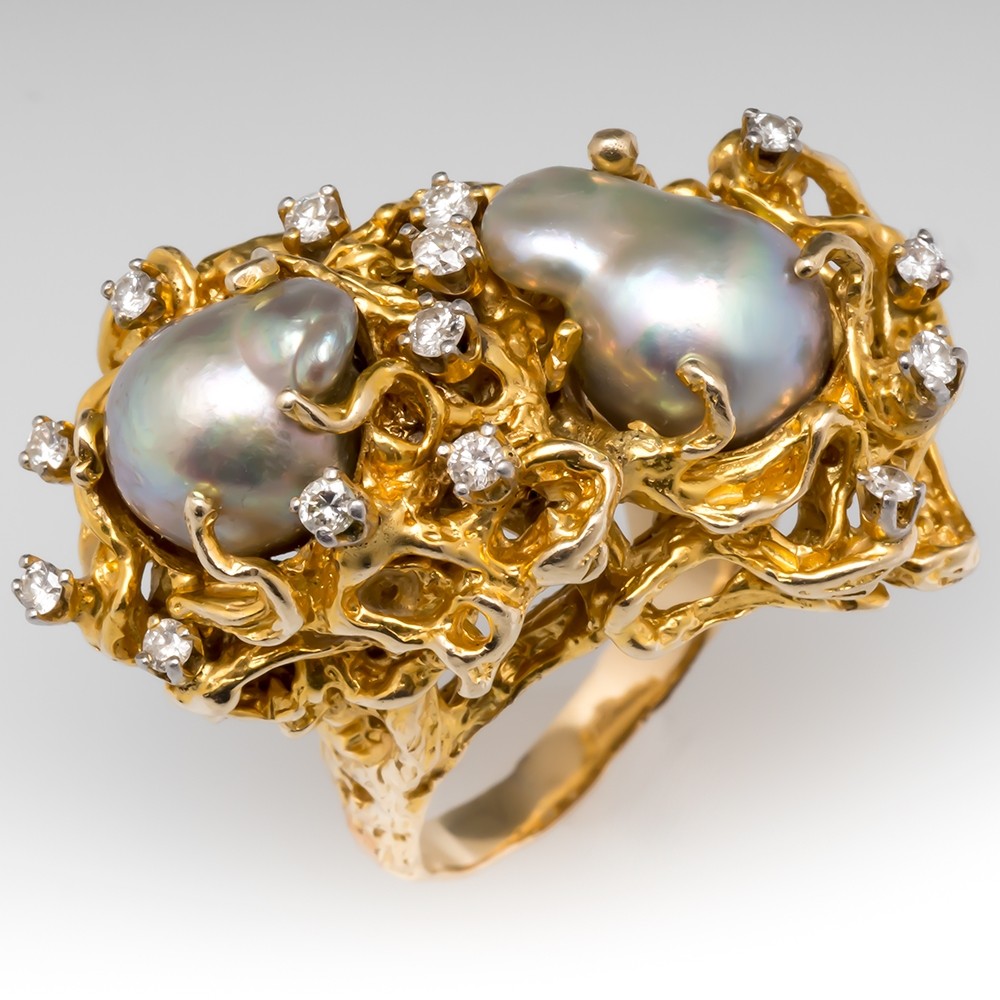 Massive Vintage Tahitian Baroque Pearl Cocktail Ring. Click here for more details. Photo ©2018 EraGem Jewelry.
Two cultured Tahitian baroque pearls rest within a vintage freeform gold setting. Nestled among the organic peaks and valleys of gold are 14 prong-set, round brilliant cut diamonds. Thanks especially to designers like Verdura and William Ruser, the use of baroque pearls in jewelry took off in the 1950s and 1960s.
Characteristics of Baroque Pearls
Baroque pearls get their name from the period in which they were the most popular. During the 1600s and 1700s, Renaissance jewelers incorporated these oddly shaped pearls into their work.
In the wild, natural round pearls form around an intrusive parasite. To protect itself from harm, the oyster secretes layer upon layer of nacre to envelop the parasite. Similarly, cultured pearls are created by the surgical insertion of a bead of shell and piece of mantle.
Baroque pearls, found primarily in freshwater oysters, form in a similar fashion. However, rather than turning out perfectly round, they form in uneven shapes. For instance, they can be oblong, oval, curved, pinched, or even look like large drips.
These abstract shapes captivated the imaginations of Renaissance jewelers. Mythological centaurs, merpeople, and Greek gods came to life, their bodies fashioned from oblong pearls.
Alongside these extravagant tributes to the Greek pantheon sat goats, rabbits, cats, and birds. Their bodies, of course, fashioned from these unusual pearls. Sometimes a baroque pearl served as the foundation for an entire scene, often involving the Catholic saints.
Baroque Pearls in Jewelry
For many years these driblets of nature remained in obscurity. Italian Renaissance jewelers used them to excess; however, the outlandish results failed to inspire early 20th century artists.
Refinement and deportment dictated elegance over garishness or whimsy. Therefore, round pearls reigned supreme, the more perfect the better. This tradition of elegance carried on until after World War II.
As our victorious soldiers returned home and the world economy became more stable, levity and a lighthearted optimism returned to the West. In keeping with this happy shift, jewelry designers experimented with more whimsical designs.
These whimsical designs, inspired by animals, insects, and children, lent themselves to the incorporation of the oddly organic shapes of baroque pearls.
Bumblebees, flowers, swans, bagpipes, and even mercenaries inspired spectacular brooches. Tastemakers like the Duchess of Windsor, CZ Guest, and Babe Paley urged their jewelry designers to create unique and unconventional jewels for them. Baroque pearls, with their snowflake-like singularity, filled the bill for several of these designers.
Today, baroque pearl jewels remain in style as much as vintage jewelry does. Few consumers demand new baroque jewelry, but serious collectors of vintage jewels continue to ensure that baroque brooches and pendants remain in fashion.
To view our complete collection of baroque pearl jewelry, please give us a call to schedule an appointment.